Renowned Ethiopian washint (folk flute) player and a member of the influential yet long-dissolved Orchestra Ethiopia, Melaku Gelaw, who settled in the United States in 1996, died on Tuesday in Arlington, Virginia, his family announced.
A friend and close associate of the esteemed composer, choreographer and conductor Tesfaye Lemma, Melaku earned renown during the 1970s, when he joined Orchestra Ethiopia, where he was able to demonstrate a round and full rhythmic flair on his flute. Founded in 1963 at the Creative Arts Center of the Addis Ababa University, Orchestra Ethiopia begun as a forum for staging orchestral songs through traditional musical modes and instruments, which made it appealing for Melaku and other like-minded musicians. Playing along with fellow members such as Tesfaye Lemma, Getamesay Abebe, Yohannes Afewerq and others, the folkloric dance company lasted for 13 years and the results of their musical collaborations are considered among the finest in the field. Under the direction of Tesfaye Lemma, Orchestra Ethiopia strived to be the lone representative folkloric group in the country and acted as archivists of the country's own indigenous music. In 1969, Melaku accompanied Orchestra Ethiopia (re-christened the Blue Nile Group for the trip), on a concert tour of the USA, during which they performed in 20 cities, introducing the American public to Ethiopian music.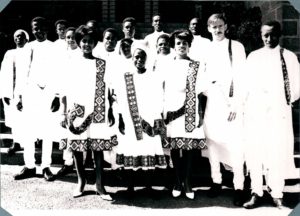 The tour proved a great success, winning standing ovations and favourable comment from several newspapers, including the New York Times. Orchestra Ethiopia released two LP recordings, one in 1969 and the other in 1973. In 2007, their old tracks were reissued by French label Buda Musique for the Ethiopiques series.
Melaku continued to learn, and then to teach. He became a professor of folk music at Yared Music School in Addis Ababa. Over the next years Melaku traveled nearly around the world playing and sharing and learning. He learned to play the Kira, a stringed instrument similar to a lyre, and the Mesenko, a single stringed instrument bowed with a horsehair bow. Melaku Gelaw has been living and performing, recording in Washington since 1996.
(photo: Melkau, Charles, Tesfaye and Getamesay)