Female sportscasters in Ethiopia are breaking down boundaries in a field of broadcasting long dominated by male voices and personalities. Konjit Teshome, Hana Gebreselassie, and Neima Ali are among those emerging voices who are busy enlightening local sports fans about sporting events and happenings here and elsewhere. Ethiopia Observer talked to them about their experiences.
Hana Gebreselassie, 25, is an Ethiopian sports journalist currently running her own sport show. She started her journalism career at the age of 20, having made her debut on FM Addis 97.1 as reporter for entertainment, sports and current affairs programs. She was among thirty eight lucky candidates out of two thousands applicants to be given the job. Those newly recruited ones did not go straight into presenting, but spent the first month taking journalism courses and getting to know basic elements of the media. Hana has earned her bachelor's degree from Dire Dawa University in Political Science and International Relations. "Just working as a reporter was exciting for me, working under those presenters that I admired for many years," she says.
She discovered her passion for broadcasting at an early age. "I have for long been fascinated by broadcasting, TV and radio. In my teenager years, I enjoyed watching Hirut Gebreamlack and Hana Demisse hosting sport shows."
Hana poured her energy into broadcasting, working on news and other programs at the state-owned FM. But what she really wanted to do was sports. He dream came true when after a year and half, she moved to the position of sports departments on Ethiopian Television and Radio. Since then, she specialized exclusively in sport for three years. She later resigned from ETV and started working with the private Bisrat FM for a year. Now, for the past nine months, she has been running her own show called Olympiad on FM 97.1 transmitted twice a week for about three hours.
Another female broadcaster and one of the newest faces of Ethiopian sports media scene is Neima Ali. Neima, 24, is also sports journalist working with Addis TV, the television station owned by Addis Ababa mass media agency and transmitted outside Addis Ababa through Nile Sat. She's been on the job for two years now, for both radio and TV. She is one of the three females among the stations' eight sportscasters.
(Neima Ali interviewing coach of the ethiopian athletics team)
She has covered a wide range of sports events and news stories happening in Addis Ababa and elsewhere. She has also interviewed many notable athletes like Tirunesh Diababa.
Born in the industrial town of Mugher known for its cement factory, Neima grew up in the enterprises compound and studied at its community primary and high school. The factory's youth sport project has produced among others renowned footballers such as Saladin Said.
Neima graduated from Dire Dawa University with a bachelor's degree in psychology, a test for Addis TV beckoned soon after her graduation, and Neima jumped into the chance. "When I got an offer to work at Addis TV I just could not turn it down," she says. She learned the tricks of the trade fast and making a name for herself, presenting the evening and mid-day sports show.
Konjit Teshome is another sports journalist who is pushing boundaries. 32-year-old Konjit began her career in print news with internships at the Addis Zemen nine years ago in various reporting roles, and soon employed fulltime and has specialised in sports for seven years, working for the government daily. She has made a reputation for being a prolific, hard-hitting interviewer.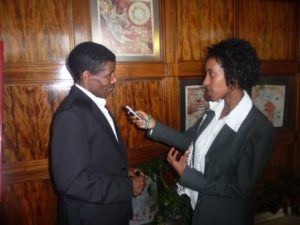 (konjit Teshome interviewing Haile Gebreselassie.)
After leaving the government daily, she joined FM 97.1's Addis Zema sports program working with well-known journalists such as Genene Mekuria some two years ago. These days, she is also freelancing for the weekly Sendek newspaper. Konjit, who was born and raised in Harar, earned a Bachelor degree in Law from Haramaya University.
She is a die-hard handball fan. She used to play handball in Harar while she was at Medhani Alem high school. Later she joined the Harari region's team. "We've some success, coming to compete as far as Addis Ababa and Mekele," she says.
When Konjit was in highs school, she used to belong to the school journalism club and she used to contribute articles for various magazines published in Addis Ababa. While there, she received short-term journalism training.
While sport reporting has always been a male-dominated field, recent years have shown a notable increase in female sport reporters and broadcasters. "Things are changing quite rapidly with more and more women realizing that women can be taken seriously in this field" believes Konjit.
It's not always an easy road. Female broadcasters face several challenges, hardships and barriers in their careers. For many viewers, a credibility gap exists between female and male sports casters. "At first I felt I had to work twice as hard simply because I was female. But as time went by and more people started taking me seriously, I found things became a little easier. But being in sport as a woman is no easy," admits Hana.
Neima says that, "Female reporters suffer a lot of harassment because some men don't understand or respect that the women are out there to do a job. We had to contend at times with sexist, demeaning or offensive remarks,"
"Some of the comments from guys are actually hard and confidence-eroding. You have this repeated accusations of being biased against this team or that." says Neima.
"Even when we happen to get some exclusive news, male colleagues tend to think that we get it through sexual favours, "says Konjit who has also encountered more than her fair share of intimidation in her career. She at times was attacked online after posting comments regarding the performance of a certain team. "I disregarded what they said to me," she says. Unfortunate as it is, the vitriol faced by women in sports media appears to be one of the ugliest downsides to the internet and social media.
Male reporters, too, receive nasty comments either on person or social media platforms from aggressive fans, Konjit says. But she feels there exists the special brand of attacks reserved for female reporters revolves around their gender, looks and other attributes that don't apply to men.
Through their effort, training, and determination, however, women sports casters continue to climb to the top of their chosen profession, pushing aside questions of credibility and worn-out assumptions about gender and the ability to report on sports.
Hana says she's has mostly positive feedback from the athletes, coaches and audiences that she reports on. She points out that gaining her viewers' respect comes from delivering accurate and error-free newscasts, which means putting in a lot of extra work and research. She says eighty percent of the program is local news and national news. She spends hours learning about events and does her best not to sound enthusiastic about a certain team. "I get particularly lots of good comments from women. I think they feel that we represent them," she says.
According to Konjit, there are about twenty women sports journalists in Ethiopia. The female pioneers helped to pave what was once a traditionally male-dominated career to get female sports reporters to be where they are today, she says. Meaza Birru, owner of Sheger FM, is considered to be among the first batch of female sports journalists in Ethiopia. Meaza used to write for Merha-Sports, a monthly paper published by the Ministry of Cultures in the 90's. Another figure Marta Belay used to report for Sky Sports, a defunct paper owned by Mesele Mengistu, who is today running his own Bisrat FM. Marta is now residing in Finland and still writes about sports on her Facebook page, Ethio-Kickoff. Hirut Gebreamlack used to work for ETV reading off-screen but the first to come onscreen was Hana Demisse, Konjit explains. Hana is now in London and reports for Deutsche Welle.
Konjit, a loud voice who boldly speaks about the need for recognition and respect from their peers and their viewers, is the brain behind the Ethiopian Women Sports Journalists Association which is in the offing. She says they are hoping to launch it on September and hoping that it would become the legitimate voice of Ethiopian sporting journalists. The association would serve as a platform for the promotion and enhancement of the profession and betterment of facilities for its members and facilitate access for training and workshops, she says.
For female reporters willing to put in the work a successful career in sport reporting in Ethiopia is definitely possible, the journalists say. They are proving to young women everywhere that pushing down gender barriers can be done. Most of all, they stress it is their love for sport itself that had allowed them to shatter the glass ceiling.